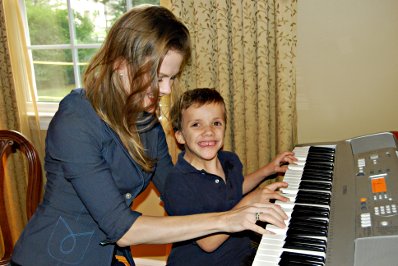 As a music teacher, my goals are to inspire my students to love and enjoy music, have fun playing it, and to become self-sufficient. The learning process never ends (even I continue to study!), but what we'll work toward in lessons is your being able to take a piece of music, sightread it by yourself, and add your own musicality and emotion. I will give you the tools to do this on your own. Whatever makes you special as a person will shine through when you play, once you have the proper technique. Every person is a vehicle through which music is presented. Two people could play the same piece of music correctly, and each performance would be different. This is the greatest part about music; it is an expression of one's self.
I divide the lesson into two main parts: technique study, and music pieces. For piano students, I work on finger position and posture, and exercises to create facility. For woodwinds, I focus on embouchure, tone, vibrato, and other elements specific to each instrument. I put a large emphasis on scales, chords, rhythms, and music theory, so you get a complete knowledge of how music is structured. As you learn each piece of the puzzle, you start to understand how music is structured, and better yet, that it all makes sense! I teach classical technique, but usually eventually venture into jazz, as I have extensively studied both.
The pacing of the lessons is completely individual and I tailor each one especially for the student. I push you to learn just above what is easy for you, so that learning to play is challenging, but not frustrating. I develop a personalized lesson plan that fits your unique capabilities. I will always talk to and work with the parents as well, to make sure that there is a very positive association created with music. The parents are instrumental in the lesson process, as they are helping the child learn to make time during the week to practice. And if you are an adult, it's not too late to learn. You might work differently then a child would, and that's what's exciting. Every person learns in their own unique way. My job is to find the way each person's brain operates best and teach to that.
This is the greatest part about music; it is an expression of one's self.